Jølstraholmen Camping AS
Address

: Jølstraholmen Camping Jølstraholmen, 6847 Vassenden
show map
Location:
Camping | Looking for accommodation Jølster? Jølstraholmen Camping & Hytter is beautifully situated by the fishing river Jølstra, 18 km north of Førde and 2 km south of Vassenden in Jølster. The campingsite has 15 cabins (hytter), all with high standard and some of them delux style. We can offer delux cabins in the skiing resort also, 60 camping spaces with electricity, of which 50 have water and sewer connections and cable TV.
In adition to camping and cabins, we can offer 4 apartments situated in the service building. The campsite has a nice playground for the kids with two big trampolines. The campsite also has a waterslide where the entrance is included in the accomendation price.
Facilities and services
General facilities

18 room(s)

Number of bars: 1

Physically disabled facilities

Parking nearby

Eat & Drink on site

Leisure facilities

Special requirements
Compare "Jølstraholmen Camping AS" with similar alternatives
If you just want to enjoy peace and quiet in beautiful surroundings or have an active holiday - with us you can do it all. You`ll find us at Vassenden by the river Jølstra.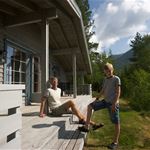 The cabins lie in quiet, child-friendly surroundings. From the big covered varandah with garden furniture you have a fantastic view over the Jolster-lake, Jostedals Glacier and the many mountains around.
Lunde Turiststasjon is situated in beautiful surroundings among high mountains in Kjøsnesfjorden, Jølster. We offer accommodation in rooms, cottages and apartments. All accommodation is based on self household and all the units have either their own kitchen or can use a public kitchen. It is a short distance to the lake Kjøsnesfjorden which is one of the best lakes in Europe for trout fishing. We sell fishing license and have boat/ kayak rental.