Kayak tandem 1 hour
Date: Wednesday 3 jun 2020 - Thursday 31 Dec 2020
Show map
Jølvassbu has kayaks and SUB boards that can be rented for a reasonable price. We have 7 tandem kayaks, 6 single kayaks and 2 SUB-boards, so groups of 20 people can paddle in layers.
Good instructional material and floating vest are included with the rental
The Go`Kayak by the city of Førde has signed a coopertion agreement with 5 tourism businesses in the county to offer a new and safe way of kayaking, and especially in beautiful nature. The kayaks are a hybrid between kayak and kano, which make them steady and with low weight, and the chances to capzice are minimal if you dont like to. Do not use them on the river or open Ocean, thay may easily be filled with water.
Show more
Book now - choose start date and product
Camping
Distance: 46 meters
If you just want to enjoy peace and quiet in beautiful surroundings or have an active holiday - with us you can do it all. You`ll find us at Vassenden by the river Jølstra.
Camping
Distance: 1.7 km
Looking for accommodation Jølster? Jølstraholmen Camping & Hytter is beautifully situated by the fishing river Jølstra, 18 km north of Førde and 2 km south of Vassenden in Jølster. The campingsite has 15 cabins (hytter), all with high standard and some of them delux style. We can offer delux cabins in the skiing resort also, 60 camping spaces with electricity, of which 50 have water and sewer connections and cable TV.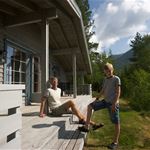 Cabins
Distance: 14 km
The cabins lie in quiet, child-friendly surroundings. From the big covered varandah with garden furniture you have a fantastic view over the Jolster-lake, Jostedals Glacier and the many mountains around.