Visit Fjordamattunet
Date: Thursday 24 oct 2019 - Tuesday 17 Dec 2019
Show map
Experience traditional Norwegian food culture while Kari shares her stories and experience. This course facilities for a demonstration of Norwegian specialities such as "natronkake" and "svelekake".
After the demonstration you're invited to enjoy the newly baked cakes with homemade jam, coffee
and juice.

Duration: 1 ½ - 2 hours

Price: 3500 NOK for groups of up to 15 persons.
For larger groups, 230 NOK per person.
Show more
Book now - choose start date and product
Camping
Distance: 1.5 km
Looking for accommodation Jølster? Jølstraholmen Camping & Hytter is beautifully situated by the fishing river Jølstra, 18 km north of Førde and 2 km south of Vassenden in Jølster. The campingsite has 15 cabins (hytter), all with high standard and some of them delux style. We can offer delux cabins in the skiing resort also, 60 camping spaces with electricity, of which 50 have water and sewer connections and cable TV.
Camping
Distance: 3.2 km
If you just want to enjoy peace and quiet in beautiful surroundings or have an active holiday - with us you can do it all. You`ll find us at Vassenden by the river Jølstra.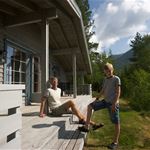 Cabins
Distance: 17.1 km
The cabins lie in quiet, child-friendly surroundings. From the big covered varandah with garden furniture you have a fantastic view over the Jolster-lake, Jostedals Glacier and the many mountains around.