Baking bread in the stone oven
Date: Thursday 24 oct 2019 - Tuesday 17 Dec 2019
Show map
For this course, dough will be prepared in advance and you will take part in shaping the loaves and baking them in the stone oven.
A meal of either soup and freshly baked bread, or bread with traditional toppings, will be
served. You'll be able to take your bread home with you afterwards.

About our stone oven:
We fuel the oven with wood three times over the course of two days before removing the ashes and cleaning
the oven. The residual heat is then used to bake up to 24 loaves of bread or 6 pizzas at a time, straight on the
hot stone. Smaller items such as buns are usually baked on a tray.

This course is suitable for groups of 8-14 persons and lasts 4 hours.

Price: 550 NOK per person
The price includes a meal served with homemade juice and coffee, and booklet containing recipes adapted for
regular ovens.
Show more
Book now - choose start date and product
Camping
Distance: 1.5 km
Looking for accommodation Jølster? Jølstraholmen Camping & Hytter is beautifully situated by the fishing river Jølstra, 18 km north of Førde and 2 km south of Vassenden in Jølster. The campingsite has 15 cabins (hytter), all with high standard and some of them delux style. We can offer delux cabins in the skiing resort also, 60 camping spaces with electricity, of which 50 have water and sewer connections and cable TV.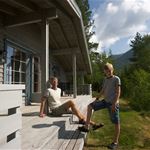 Cabins
Distance: 17.1 km
The cabins lie in quiet, child-friendly surroundings. From the big covered varandah with garden furniture you have a fantastic view over the Jolster-lake, Jostedals Glacier and the many mountains around.
Camping
Distance: 3.2 km
If you just want to enjoy peace and quiet in beautiful surroundings or have an active holiday - with us you can do it all. You`ll find us at Vassenden by the river Jølstra.