Jølstramuseet - History, food, art and culture.
Address: Håvardtunvegen 10
Show map

Address: Håvardtunvegen 10

Jølstramuseet is an oasis just off the E39 in the center of Vassenden. Here are 12 old houses that are found in one natural garden. We have a large private collection of older objects from Jølster. We also have an art gallery, food service, concerts, arranging meetings and closed events. 
It is Heidi Fossheim Årdal and Frode Årdal that are the owner of Jølstramuseet. Heidi and Frode are living in Jølstramuseet the hole year.

The Jølstramuseet is not a museum in the traditional sense. In the barn we have kitchen and serving of food and drinks. One can also have a meal served outside in the yard, in one of the old houses or in the firehouse. Our famous dish is Jølstratrout prepared in different ways. 

Art and historical objects adorn the walls both in the barn and in the other old houses. During the International Folk Music Festival hosted in July quarter, concerts are held in the houses where the music of foreign and Norwegian artists will take your breath away.
Show more
Camping
Distance: 299 meters
If you just want to enjoy peace and quiet in beautiful surroundings or have an active holiday - with us you can do it all. You`ll find us at Vassenden by the river Jølstra.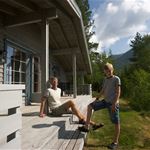 Cabins
Distance: 14.3 km
The cabins lie in quiet, child-friendly surroundings. From the big covered varandah with garden furniture you have a fantastic view over the Jolster-lake, Jostedals Glacier and the many mountains around.
Camping
Distance: 1.4 km
Looking for accommodation Jølster? Jølstraholmen Camping & Hytter is beautifully situated by the fishing river Jølstra, 18 km north of Førde and 2 km south of Vassenden in Jølster. The campingsite has 15 cabins (hytter), all with high standard and some of them delux style. We can offer delux cabins in the skiing resort also, 60 camping spaces with electricity, of which 50 have water and sewer connections and cable TV.