A bit of the history from Jølster
Show map
In Jølstramuseet we show you around in Grindastova, Eldhuset and Strandstova. All the old houses are from Jølster.
Grindastova is one of the oldest houses in Jølster. The kitchen is from a "Priest-farm" in Ålhus and Strandstova with Strandsbua has been on a place called Strand, on the south side of Jølstrawater. In our houses we have objects from Jølster's past. Our collection of well-being and remnants of national costume and other garments has meant a lot for the reconstruction of the six women's suits and two men's suits in Jølster. We have the pipe of Nikolai Astrup with his monogram on, and drafts of new tourist stamps that he made. The tablecloth he made for his mother, when he was 17 years old, is hanging in Eldhuset. You'll find, among other things, a thousand years old beautiful stone ax, a spinning wheel and a grindstone from the Viking age. We can show you the first form of lamp we had here in Norway and we have maps of several of the burial discovery in the village. Have you seen a blood-letting equipment before? We have it here. Besides we have a lot of old tools.
Show more
Camping
Distance: 155 meters
If you just want to enjoy peace and quiet in beautiful surroundings or have an active holiday - with us you can do it all. You`ll find us at Vassenden by the river Jølstra.
Camping
Distance: 1.7 km
Looking for accommodation Jølster? Jølstraholmen Camping & Hytter is beautifully situated by the fishing river Jølstra, 18 km north of Førde and 2 km south of Vassenden in Jølster. The campingsite has 15 cabins (hytter), all with high standard and some of them delux style. We can offer delux cabins in the skiing resort also, 60 camping spaces with electricity, of which 50 have water and sewer connections and cable TV.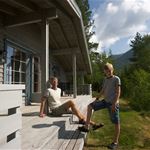 Cabins
Distance: 14 km
The cabins lie in quiet, child-friendly surroundings. From the big covered varandah with garden furniture you have a fantastic view over the Jolster-lake, Jostedals Glacier and the many mountains around.