Challenge your fear of hights with tilfjells
Show map

«tilfjells would love to share with you all the amazing expriences one can have in the mountains!
No matter what kind of hike or activity you would like, tilfjells will help you. We will always make you feel safe and cared for all the way to the summit. Our exprienced guides are used to the untamed wilderness and mountains, some have crossed Greenland from west to east with skies on
and some have climbed high vertical mountains. tilfjells` only wish is for you to have an amazing time and show you the magnificent diversity of Sunnfjord and Jølster`s nature whilst giving you a unique experience and a stunning view.»

Beneath Kvamsfjellet you can really challenge your fear of hights. The wall you are going backwards down is a big one, so this is going to be both exciting and fun at the same time! Did we mention that the view is amazing?

From the parking lot there is a short hike through som terrain so bring som good shoes and some extra clothes. There might be some wating. tilfjells has everything else.

Booking by telefone: 975 24 632 / 938 88 506
Minimum group size: 3
Maksimum group size: 8
Starting point: Jølstraholmen at the truck fuel pumps at 10:00 in the morning of the hike. We drive together up a toll road to the top of Jølster Skisenter. It ́s possible some have to drive their own car depending on the group size. We pay the toll road.
Time: 2-4 hours back and forth Jølstraholmen (depending on the group size).
Price: 650 NOK per pers.
Family discount: 1600 NOK per family*
Payment: Credit card, at the starting point.

20% discount for young adults 13-16 years.
*family = 2 adults, and 2 children/young adults 0-16 years.

Rapelling have a 12 year age limit.

The hike/activity will not be carried out if group size requirements are not fulfilled or if the weather prevents us from carrying out the hike/activity in a safe manner. tilfjells AS does not take any economical responsibility for any accidents happening either to the guest or the guests assets during our trips, the guest themselves have to be insured as an individual. By signing up you are agreeing to being in good health. By signing up you have read and understand the reguirements set by tilfjells AS. All participation on your own responsibility. The guests themselves have responsibility for any action taken without being told so by a guide. The guests have to sign a personal declaration form before the start of all hike/activity.

Sadly our hikes/activitets are not organized for the functionaldisabled.
Show more
About this activity
Website

Price information

Price: 650 NOK per pers. Family discount: 1600 NOK per family* 20% discount for young adults 13-16 years. *family = 2 adults, and 2 children/young adults 0-16 years.
Camping
Distance: 11 meters
Looking for accommodation Jølster? Jølstraholmen Camping & Hytter is beautifully situated by the fishing river Jølstra, 18 km north of Førde and 2 km south of Vassenden in Jølster. The campingsite has 15 cabins (hytter), all with high standard and some of them delux style. We can offer delux cabins in the skiing resort also, 60 camping spaces with electricity, of which 50 have water and sewer connections and cable TV.
Camping
Distance: 1.7 km
If you just want to enjoy peace and quiet in beautiful surroundings or have an active holiday - with us you can do it all. You`ll find us at Vassenden by the river Jølstra.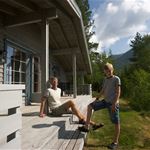 Cabins
Distance: 15.7 km
The cabins lie in quiet, child-friendly surroundings. From the big covered varandah with garden furniture you have a fantastic view over the Jolster-lake, Jostedals Glacier and the many mountains around.